Because I had SO MUCH to talk about on Monday, I neglected to let you guys know what was on the menu this week in the Pryor household. So I'm going to do a little Throwback Thursday to Menu Monday! My flight got in late on Sunday and we will be in Louisiana on Friday, so four quick and easy meals for you to try out in your kitchen!
Monday
Pork Chops and Creamy Mushrooms
Pork chop with a veggie is our go to meal. It's cheap and quick! (Seriously, this meal can be ready in 10 minutes.) And not to mention, AJ has perfected cooking a pork chop. I mean, he's goooooood.
We keep a jar of pre-made Alfredo sauce in the fridge to spice things up. I love love LOVE mushrooms and putting a little Alfredo sauce in with them. OMG.
Tuesday
Chicken Chipotle Bowl
Chipotle bowls are a staple in the Pryor household. It's a "dump meal" of throwing in corn, beans, rice, cilantro, chicken, and a taco seasoning pack. When we plan to have chicken we always buy a whole chicken - having the breasts for a meal like this and using the legs/wings for baking. Buying the whole chicken is a huge cost savings!
Wednesday
Fried Chicken and Sauteed Squash
We very rarely have fried things.. I try to save our gluttony meals for the weekend. However, we are hosting a Southern themed dinner party next week and AJ wanted to get some chicken frying practice in. This chicken was so dang yummy I almost forgot to take a picture!!
Thursday
Stuffed Zucchini with Rice
Our meatless Monday came on Thursday this week. You can change out the ingredients for this meal with almost anything! You can add sausage, ground turkey, tomatoes, squash, any kind of spice, the list goes on and on. It's seriously a fool proof dish - I promise, you can't mess it up.
Directions
Preheat oven to 350 degrees F
Trim stems from zucchini and slice lengthwise. Scoop out seeds and put in bowl. Mix seeds with diced mushrooms, garlic, bread crumbs, salt, pepper and parmesan cheese.
Bake in preheated oven for 45 minutes.
Serve over bed of rice.
Today I am linking up with
East Coast Chic
- y'all go check her out!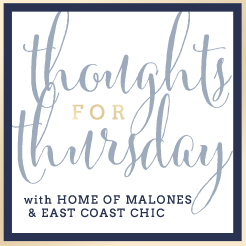 xoxo,